Advantages of having Personal domain name for your digital Resume
Having a personal domain name for your digital resume creates you personal brand online.
For example, you can have a name like https://LeonCV.com, if your name is Leon Anderson.
At ResponsiveCV, every resume created can have a primary domain name like LeonCV.com & its very simple to build a resume with our resume builder powered with instant preview.
You can leverage the power of search engines to get your CV noticed. You can also use tools such as Google Analytics to track and improve your resume.
Some of the advantages of having a domain name are summed up as follows.
You can do a reverse job search.
Your resume website appears in Google search results for your name.
You leverage the power of the search engines to work for you.
Your resume can be easily shared and downloaded online.
You can be 100% sure that your resume opens on the recipient regardless of the device he is using.
It becomes so easy for people to contact you through your website.
Your resume website can be easily bookmarked to mobile device home screen.
You create an awesome first impression and tremendously increase the chances of getting a response.
How to choose a personal domain name for your resume?
The best name for creating a personal brand is your full name. Lets say if your full name is Leon Anderson, it's wise too choose a name like LeonAnderson.com
If you have a famous name like David, John etc, your name most likely unavailable for new registration.
That case you can choose names like
LAnderson.com
LeonCV.com
LeonRecruiter.com
LeonDesigner.com
Think of a name that you wish to get recognized online and make it short. You'll be using this name in most of the social mediums.
What extension to choose for my personal domain name?
There are several domain name extensions like .com, .us, .xyz, .online
The .COM is the oldest of all. Most people are familiar only with the .com extension.
So it's wise to choose a .com extension for your online resume.
Just in case if any of the.com extension is not available go for your country based extension. for example .us for the United States, .it for Italy.
Once a successful registered a domain name, you need a SSL certificate & and lot of technical knowledge to create and host your resume and make it available to the search engines.
With ResponsiveCV, we make all the process very simple. Just create your resume with a resume builder or just import your LinkedIn profile.
How to Create a resume with our resume builder?
Use our simple resume builder to create a resume and then click on save online.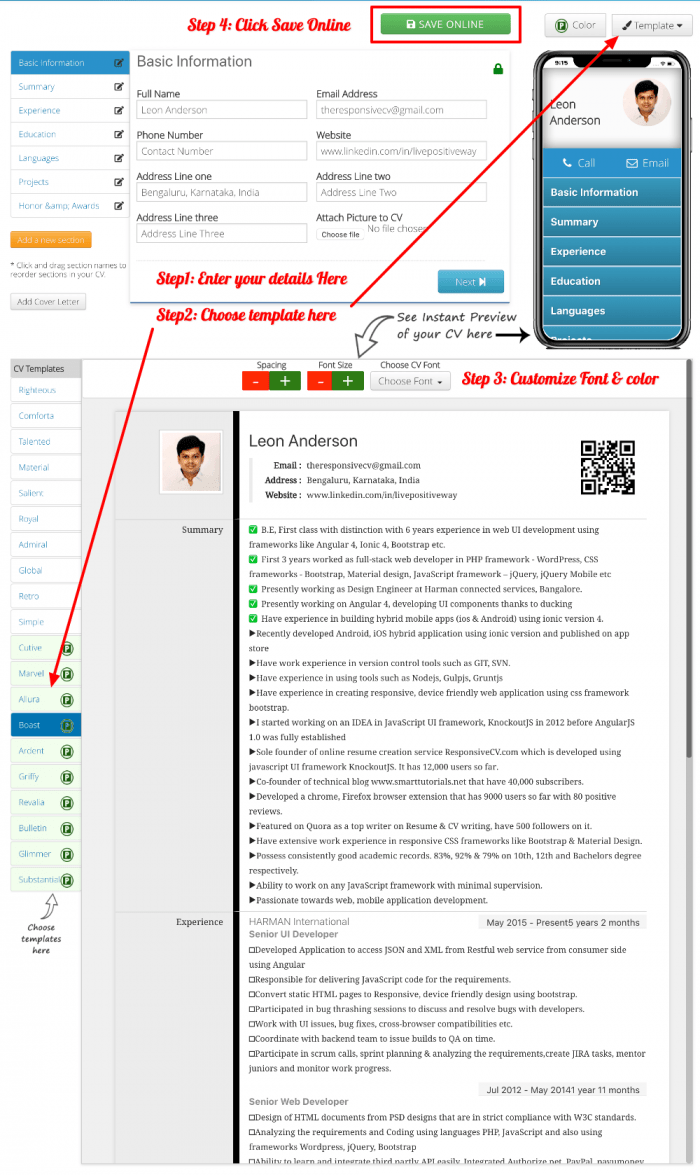 You can just type in the information which seems like a lot of work, if you have a LinkedIn profile, you can just import your profile. Your resume is automatically created with your LinkedIn profile.
Once you save online (or) after importing the LinkedIn profile, you'll see the following confirmation screen.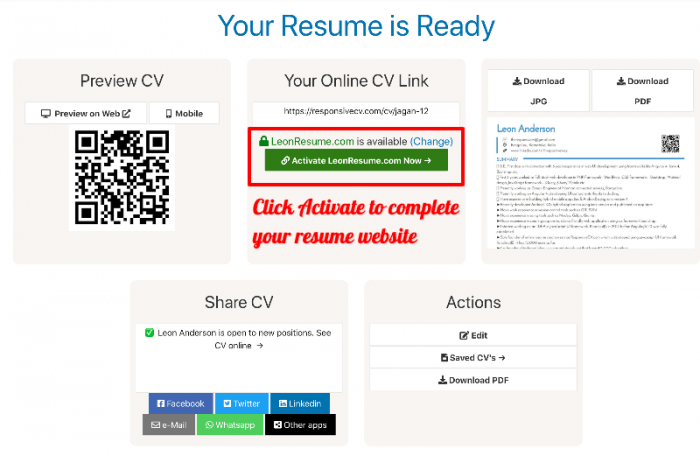 The confirmation screen will automatically suggest the best names based on your full name and its availability on the web.
If you are not satisfied with the suggestions, you can click on change Link to search & activate a different name you like.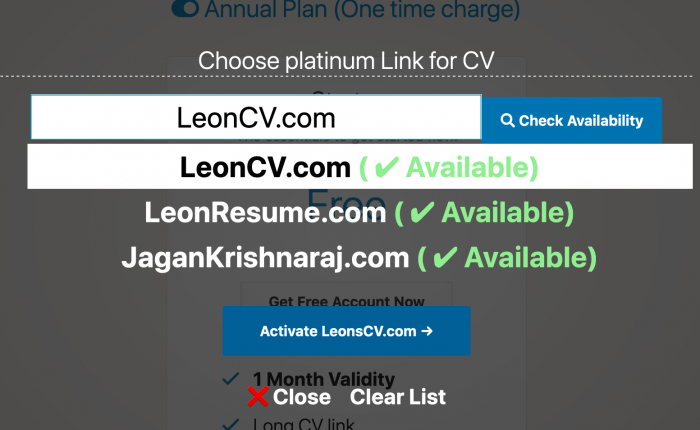 The domain is assigned to your CV in less than 4 hours once you activate it.
Once the name is attached, your CV becomes an independent identity on the web. It's not affiliated with a ResponsiveCV anymore.
Sharing CV draws attention.
Your your personal branded CV gets the attention it deserves wherever it is shared.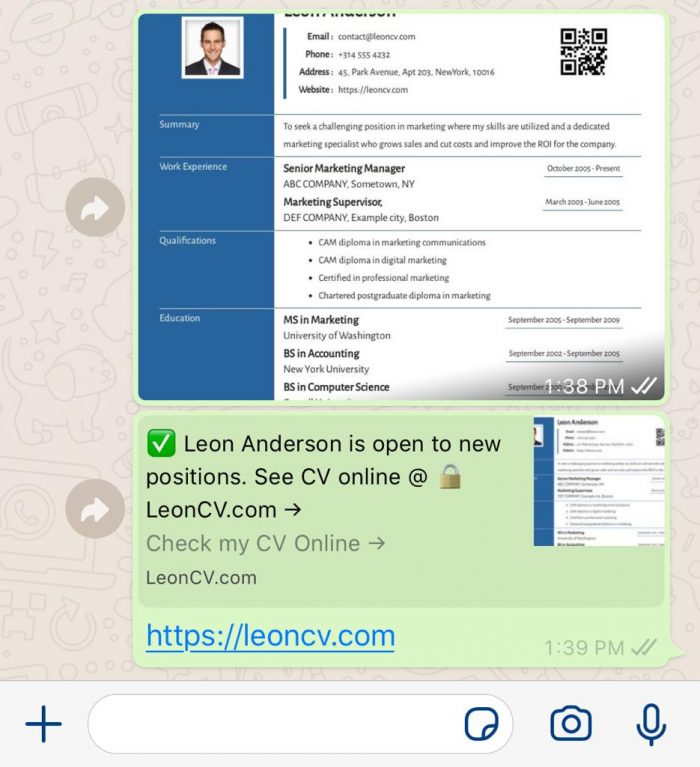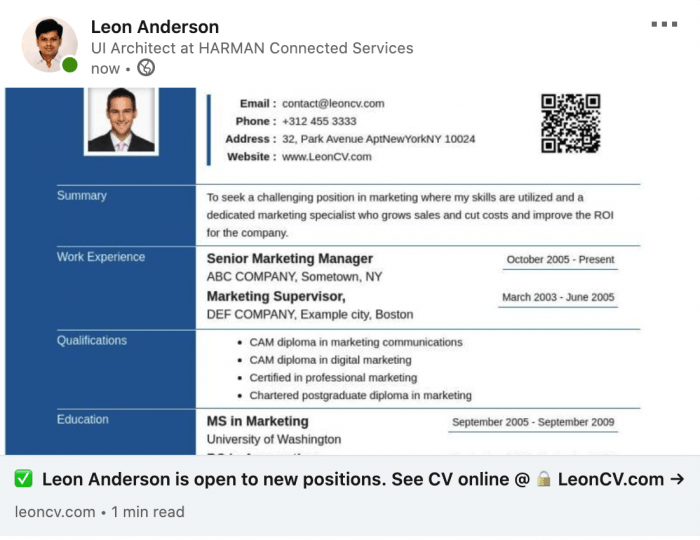 Conclusion
It's 2020 now. The job market has changed very much, it's essential to make yourself unique to stand out from the majority. One of the very simple way is to create a personal brand online.
Along with a domain name, you also get
CV hosted fast AWS Cloud Hosting.
SSL certificate (https://YourName.com)
Ultra-secure webserver.
Google Analytics reports.
No HTML coding, No file upload needed.
Share messages optimized for visibility.
Create & save 10 resumes tailored to each job you apply.
All of these for just $4.90 a month. It's a negligible price to pay for the value offered.
A CV is an Art.
We help you paint it with your personality, passion & purpose.
The goal is to build a CV that SHOWS who you are & what you are capable of achieving.